text.skipToContent
text.skipToNavigation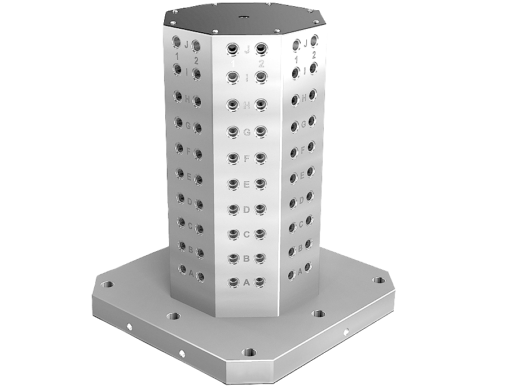 Description
Support and mounting surfaces precision machined
Grid spacing 50 ±0.02 mm.
Clamping towers with grid holes are used on horizontal machining centres.
The alphanumerically labelled grid holes mean that the clamping elements can be assigned in a defined manner in the event of repeat setups.
The clamping towers conform to machine tables for machine tools acc. to DIN 55201 and JIS6337-1980.
Please order locating pins for positioning subplates on machine tables acc. to DIN 55201 separately.
Please order protection plugs to plug unused grid holes separately.
Ring bolts for hoisting are supplied.
Other dimensions available on request.
1) grid hole
2) hole for DIN 912 cap screw (D3/D4)
Important note on downloading CAD models
In order to download our CAD models, you must log in first. If you have not created an account yet, please register under "My Account" (right side of the screen) and follow the instructions.