text.skipToContent
text.skipToNavigation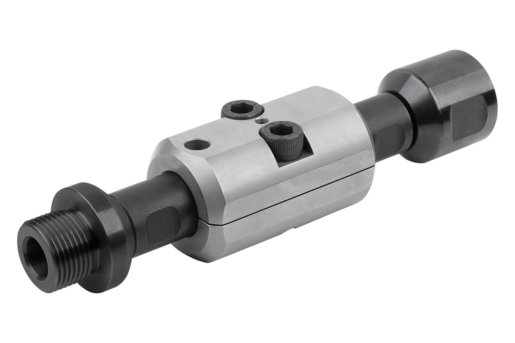 Description
The fine adjustment enables the distance between the workpiece and support table to be precisely set. If required, the fine adjustment can be used to set the workpiece stabiliser under tensile or compressive load.
Adapter piece black oxidised.
Half shells nitrided.
Only the fine adjuster 02402-25120150 is required for workpiece stabiliser system size 25.

When using fine adjustment on the workpiece stabiliser system size 50, the fine adjuster 02402-25120150 and the adapter 02402-50 (consisting of 2 adapter pieces and a grub screw) are required at the respective ends.
1) DIN EN ISO 4762 M10 cap screw
Important note on downloading CAD models
In order to download our CAD models, you must log in first. If you have not created an account yet, please register under "My Account" (right side of the screen) and follow the instructions.